Connelly 2019 Connelly Bentley Wakesurf Board 4-4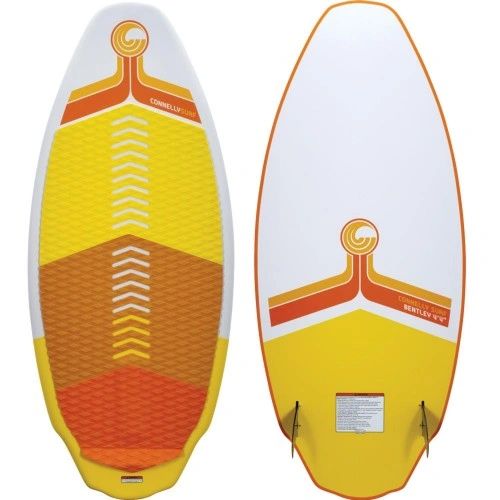 Connelly 2019 Connelly Bentley Wakesurf Board 4-4
Details
Connelly  2019 Connelly Bentley Wakesurf Board 4-4

The Connelly Bentley a fast, maneuverable hybrid style that outperforms boards twice the cost. Now built with a new Thermo Shell construction that combines durability with the lightweight, high-performance feel of an epoxy board.
The Connelly Bentley is one of our best selling boards each and every summer. There is not a better bang for your buck when it comes to buying a new wakesurf board. At an entry-level price point, the Connelly Bentley far outperforms its price tag. This hybrid style board is great for those learning to wakesurf but can also rip when a skilled surfer hops on it.
Built with Connelly's newest Thermo Shell construction, this board is more durable than ever before and still has that same great lightweight, responsive feel of an epoxy surfer. A one piece EVA traction pad allows riders of all sizes to comfortably place their feet on the board. The twin 3.6" flat foil fins provide lots of grip and drive down the wave but can still break free off the lip of the wave. Plenty easy to do a 360 on this surfboard.
The Hybrid design means that is board features characteristics of both a skim and surf style wakesurf board. Its wide platform makes for a stable feeling on that will boost the confidence of anyone who rides it. Its flat, minimal rockerline provides lots of acceleration and speed to make sure you can stay in the wave's sweet spot. The rail design makes for smooth, predictable turns while the longer sidecut radius helps increase quick maneuverability. A tapered tail design helps it sit lower in the water, allowing for more board control and easier tracking.
Want a fun high-performance board? Don't want to break the bank for one? The Connelly Bentley is calling your name.
Features
-Skim/Surf Hybrid Design
-Thermo Shell Construction
-One Piece EVA Traction Pad
-Twin 3.6" Fins
Reviews